How to Clean Ceramic Wash Basin?
Are you looking for an article that has everything about ceramic wash basin cleaning? If yes, then you have come to the right place. There is no doubt in saying that ceramic products are getting very popular day by day and one of the most popular among them is a ceramic wash basin. It offers many advantages and the best thing is that if you wash it properly, then it will stay as new always. The only problem is that most people don't know how to clean it properly. In this article, you will get to know the best methods that you should use to clean a ceramic wash basin without ruining its look. Along with this, all the necessary information regarding it will also be mentioned. So if this sounds compelling, then stick to this article. Now without wasting any time, let's jump into the main deal.

Features of Ceramic Wash Basin
• Amazing Look and Design- One of the best features of a ceramic wash basin is that it looks amazing. It doesn't matter what kind of bathroom and kitchen you have, you can never go wrong with a ceramic sink. It will elevate the overall look of your kitchen and bathroom
• Durable- Another great thing about ceramic sinks is that they are very durable and with proper care, they can stay with you for a very long time. They have a strong surface, which makes them resistant to scratches and other surface defects. That's why ceramics sinks are an ideal choice and most people prefer them
• Variety in Designs- Ceramic sinks are available in various designs. From simple to stylish, you can get everything you want. Along with the design, many different colors are also available and you can choose according to your preference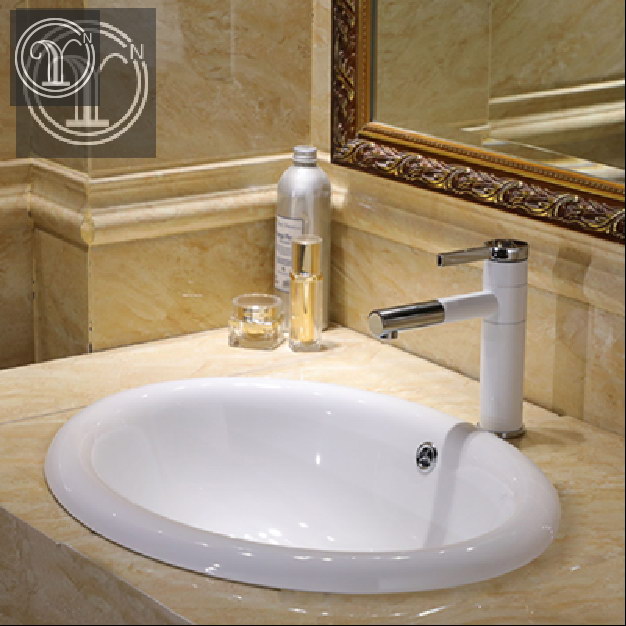 Some Methods To Clean Ceramic Wash Basin
So after discussing the features of the ceramic wash basin, it's time to talk about some methods that you can use to clean ceramic sinks. So let's start with the natural ones first:
1- Use Lemon Juice To Remove Stains
Lemon juice is one of the best natural substances to clean ceramic sinks. You just need to lemon juice in a bowl, or if you have any allergies with lemon, then you can also use vinegar as an alternative. Follow these steps for proper cleaning:
• The first thing that you have to do is applying the lemon juice to the stained areas. You can either directly rub the lemon or you can squeeze it. Alternatively, apply some vinegar at the stain
• After applying it, let it sit for only 40 to 60 minutes, not more than that. Otherwise, it might etch the surface of the sink, which can lead to stronger stains.
• Use a gentle sponge to wipe the area and check whether the stains are removed or not
• At last, you should rinse the ceramic sink with water to clean the remaining acids (lemon juice) because acidic substances are harmful to ceramic sinks as it can eat away the ceramic coating/material.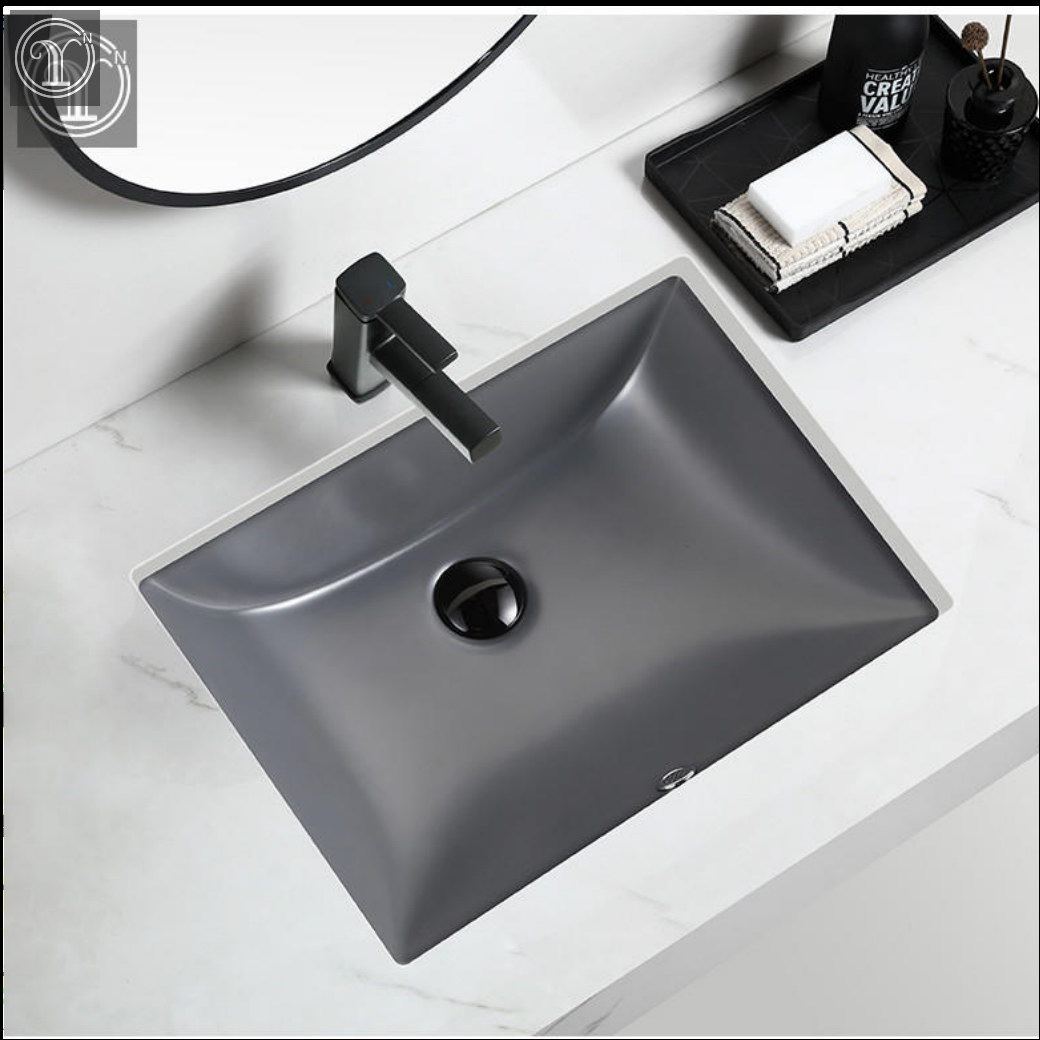 2- Baking Soda for Stubborn Build Up
Baking soda is also a great way to clean your ceramic wash basin. It contains powerful cleaning agents that can be used to clean a lot of stuff. Follow these steps to get better cleaning:
• Though baking soda is mild in comparison to others but still, it can harm the finishing of the sink and scratch up to its surface. You should only use it if the lemon and other ways are not working
• So first, you should use a shaker to spread the baking soda evenly in the dirt build-up area. If you don't have a shaker, then you can punch holes on a regular jar and create a DIY shaker.
• Make sure that the sink is only a little damp to prevent the baking soda from dissolving in the water
• Use a gentle sponge to scrub it and remove all the dirt. The baking should create little clumps that will remove take dirt and bacteria with them
• After that, use hot warm water to rinse the ceramic sink to remove the remaining bacteria and dirt and use a smooth towel to wipe it out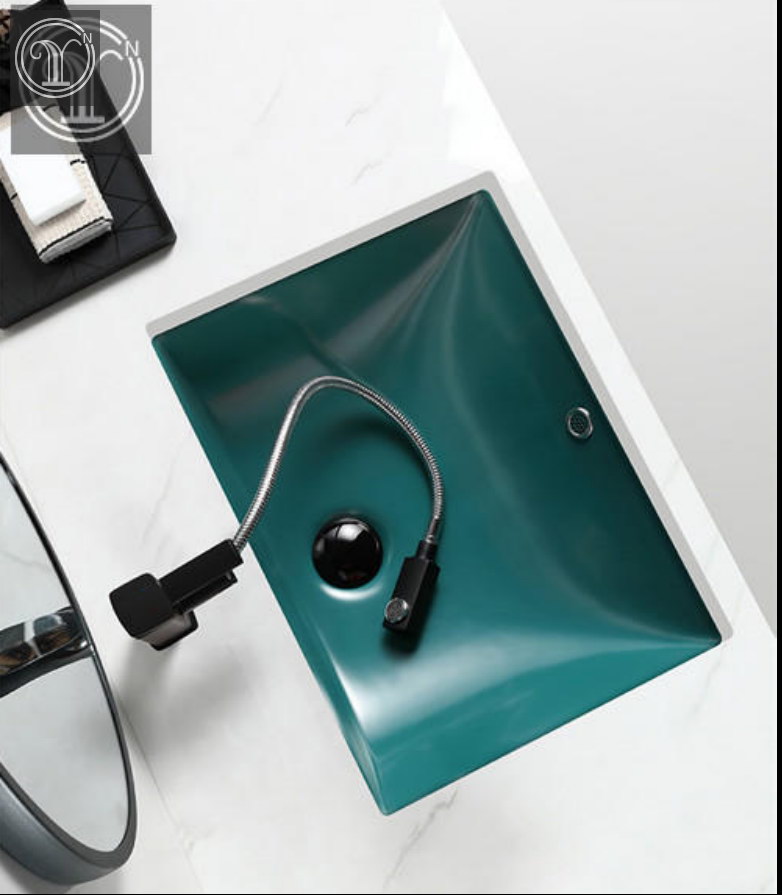 3- Cleaning with Detergents
If you are someone who doesn't want to go with the natural ways, then you can use also detergents. The best thing about detergents is that they can make your ceramic wash basin clean much faster. So here are some steps you need to follow:
• Before starting the cleaning process, make sure that the detergent is of good quality. Don't use cheap detergents because they can damage the ceramic layer and ruin the look of the sink
• So first, take a tablespoon of detergent and mix it with gallons of hot water. If the sink feels and looks greasy then for better cleaning, use a detergent that contains grease-cutting agents.
• Then with the help of a smooth sponge, wipe the sink's interior area with the detergent paste and clean it with hot water
• After that, make a solution of vinegar and hot water and put the sink drain in it for 50 to 60 minutes. It will loosen up the build-up dirt and also make it whiter.
• Again scrub it with the water-detergent mixture to remove all the residue left and rinse it with clean water
• Use a soft towel to wipe the surface of your ceramic wash basin. Drying helps to prevent the appearance of the water spots and increase the shine in the surface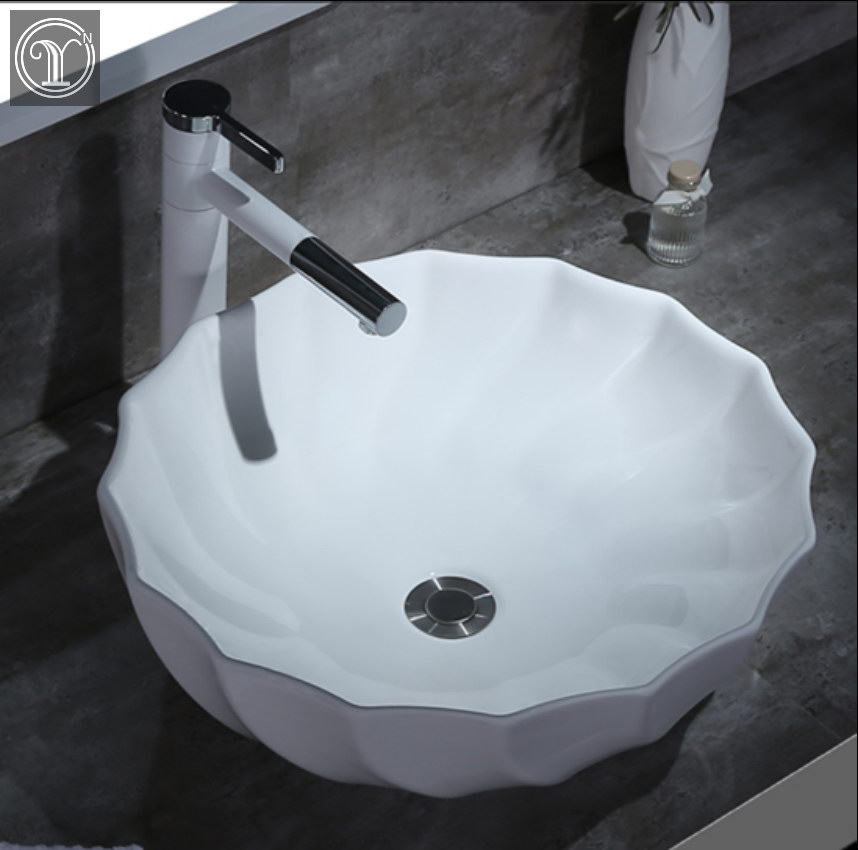 Tips To Protect You Ceramic Wash Basin From Scratches
• Clean your ceramic basin regularly with water and one time in every two weeks with detergents and cleansers
• Always use a soft sponge to wipe and clean the surface of the sink
• Wash your regular utensils in a metal container
Conclusion
So these were the best methods to clean a ceramic wash basin. The best thing about ceramic products is that they are very durable and if you keep them with proper care, then they can last forever. All these methods can easily help you clean all the hard stains on your ceramic sink and will make it white again. Hope you will get some helpful information in this article.
Things You Need to Know before Buying Concrete Bathroom Sink
Choosing the right bathroom sink plays an integral role in enhancing the aesthetic appeal of the home. However, finding the right sink for your washroom is not only about selecting a product, which enhances its elegance.
You need to remember that it contributes to being the focal point of the restroom. It is necessary to find a product, catering to your needs and which can be used for several years without worrying about replacement any time soon.
The market is filled with a vast array of concrete bathroom sinks and selecting the right product can be baffling. There are a bunch of things, you need to consider before purchasing the bathroom sink. Whether you are going to remodel your bathroom or you intend to install a new one, you need to consider the following factors before purchasing concrete sink for the bathroom:


Understanding the needs of your family




To choose the right concrete wash basin for the bathroom, it is necessary to determine the needs of your family. You need to discuss with the family and decide, the style of sink, you want for the restroom. In addition to this, you need to consider, who will use the sink and how they will use the product.

It will help you in choosing the ideal product which will suit your requirements. If the basin will be used by your kids on a wide scale, it is recommended to choose a sink with high durability and functionality.



It is another crucial factor, you need to consider before choosing the concrete bathroom sink. The wall-mounted sinks are known to be fixed to the wall and thus it helps in making the best use of the space. Hence, it is regarded as an ideal choice for small bathrooms.
Pedestal bathroom sinks are another prominent choice for compact space. Top-mount or self-rimming bathroom basins are placed in the vanity top in the cutout and the rim secures it in the right place.
Besides this, you can choose from the console bathroom sink, under-mount bathroom sink, integrated sinks, and vessel sinks according to your preferences.
When it comes to the integrated sinks, the sink, as well as the countertop, are known to be made of similar materials. Also, they are customized for fitting the standard vanity widths. A vast array of people prefers to opt for this type of sinks as they can be cleaned easily.
The under-mount sinks are known to be mounted under the countertop and they expose the countertop surface's edge around the sink. They are the easiest to clean and hence if your bathroom is used by the kids on a wide scale, you can opt for them without a second thought.
The console sink is known to be the most popular variety of this sink and it stands second to none in resembling the traditional product, which is present in the hallway or the entry. The console sink refers to the wall-mount sinkfeaturing 2-4 legs. These products come with open shelving and generous counter space.

The choice of the sink for an industrial setting




If you are looking for the ideal concrete washbasin for the institutional or commercial setting, it is recommended to choose wall-mount sinks. These products generally hang from a specific height of the wall and expose the water supply and drainpipe lines.

As you can view the plumbing beneath the products, you can be ensured that the attractive pipe finish adds to the elegance of the space. They involve a reduced cut off from the pocket and thus they are an ideal choice for the bathrooms of the small size.








Bathroom sinks are available in a wide array of sizes. Selecting between the right sizes and styles can be a bit challenging. Now that you have figured out the type of sink style, you want for the restroom, you need to assess how the product is going to fit in the bathroom space.
You should ensure to select the concrete bathroom sink of the appropriate size, to ensure that they do not cause any discomfort to you or do not ruin the aesthetic appeal of the restroom.
To select the sink of the right size, it is necessary to consider the size of the restroom, and the amount of functional space for it. If you have a small bathroom, you do not want to install a product of large size that might take too much of the space.
Determine whether the bathroom of your home is a low or high traffic area
The total amount of usage of the bathroom also plays an integral role in determining the type of sink, you should install in the restroom. You need to figure out who will be mostly using the specific bathroom, the kids in your home, or the elder ones.
It is recommended to choose a concrete wash basin with more delicate materials for a stylish and luxurious bathroom. However, the restroom is going to be used mostly by your kids, you should give more focus on durability and convention.

Compatibility with the faucet



You need to ensure that the shape or size of the concrete wash basin, you are planning to install, works perfectly with the faucet of your choice. The majority of the sinks, available in the market are equipped with 1-3 holes which are useful in holding the faucets.

They feature single handle or the ones that come with separate handles, emitting cold and hot water. A single hole sink is required for the faucet with single holes whereas you need to opt for a faucet with double holes if you want hot and cold water separately.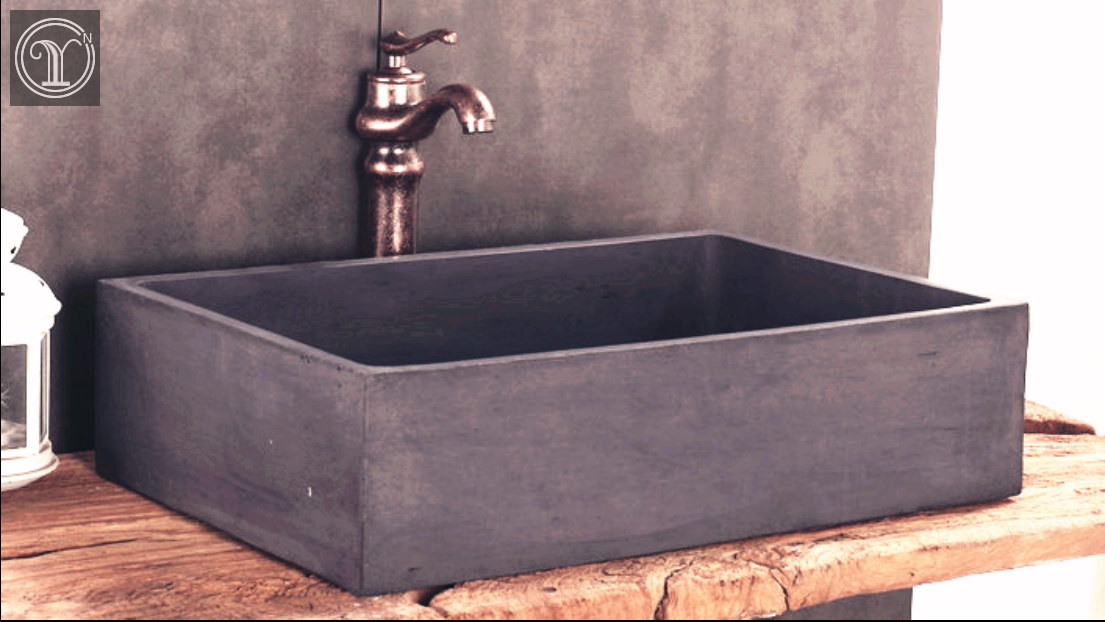 Inquiry now!
You can purchase the ready-made concrete bathroom sinks or you can customize them, according to your preferences. They are known to be heavier in weight, in comparison to the other kinds of size, available in the market. Concrete is known to be porous and hence it is necessary to seal the sinks, made of concrete to protect from any type of stains and spills.
If you want to complement the look of your washroom and ensure durability at the same time, you can opt for concrete bathroom sinks without a second thought. Add a style statement to your home by choosing the right style of the concrete wash basin.
Why Should We choose Promise Art Basin ?
Foshan Promise Art Basin is one of a Professional Handmade Art Basins manufactures in China . We have more than 10 years experience in leading high quality basins .
Our Main products are : Ceramic Basins , Ceramic Basin column Basins ,Pedestal Basins series , Mop Top Series , Mirrors ,taps .
We have 8 Produce Lines , thousands designs handmade basins , and our designs can be OEM&ODM .The process for our basins are : 1. Select Material .2.Forming the body 3.Body drying 4.Trim the basin's body 5.Decals & Engrave & Painting 6.Glazed 7. Firing with high temperature 8.Electroplate 9.Basins 10.Classify & packing & loading .

The advantage of our basins are : 1. Environmentally Friendly Materials 2 .Unique and Traditional Products 3.Excellent Quality 4.Lots of Designs 5.Strictly Inspection 6. High temperature , color never change . 7. Best price , We can apply the best price to our customers . 8. Many new designs , every week , we will produce some new designs .

Our Basins are good selling in The United States , Australia ,Canada,The British, Saudi Arabia ,India ,Iran , Russia ,New Zealand , Brazil ,The European , South America , Southeast Asia ,Middle East, Dubai , Bangladesh ,Korea,Japan ,Singapore,Malaysia and so on .We are cooperating with mostly Brand sellers , Wholesales , Cabinet factories, Trading companies , Chain stores , Online shops , Designers ,The engineers , Groupon ,Etc.We can supply the best price with highest quality of handmade art basins , and Our products are distributed in many large sanitary ware markets in China .

Our basins are good selling all over the world ,we have higher brand reputation in the world. If want customized high-end bathroom , welcome contact with us .

Enjoy Art , Enjor your life . Welcome to Join us for high quality products .